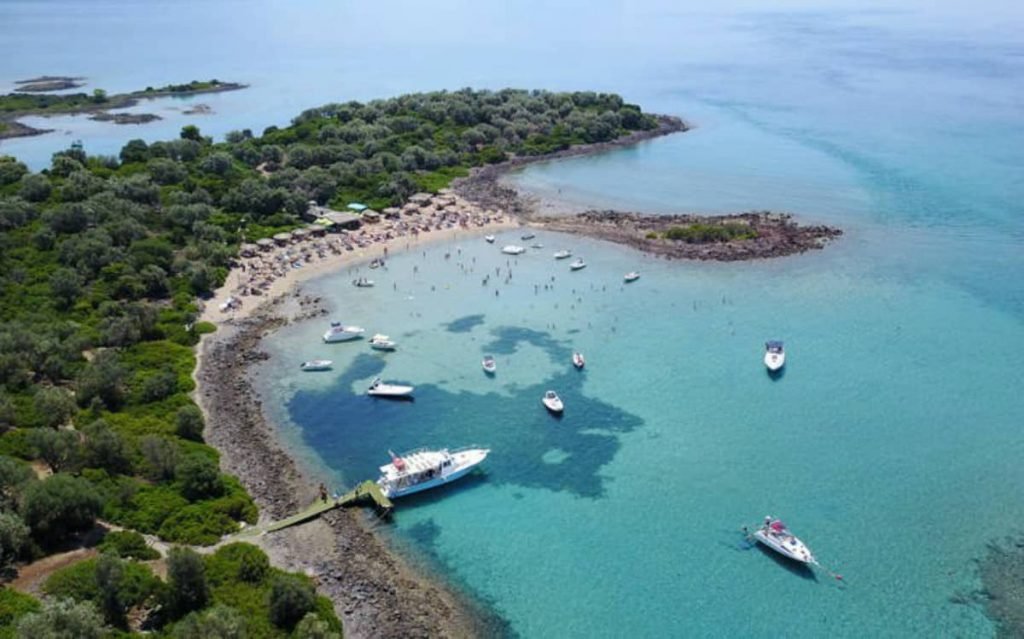 History
The complex of islands is the creation of volcanic energy and forms a single volcanic formation. The volcano operated during the Quaternary period of the Caenozoic century of the prehistory of the earth. Before the Maliakos tectonic precipitation took place, the Lichdonisia were joined to the Lichada peninsula. Large parts of the islands were sunk by a major earthquake in 426 BC …
According to mythology, Lichadonisia were formed by the body of Licha. Dihanièra, the wife of Hercules, thinking that he was cheating on her, sent him with Licha a poisonous chiton . When Hercules wore the chiton, he suffered from terrible pains and furiously grabbed Licha and hurled him into the sea. From the members of his body were formed the Lichdonisia. It is also said that the Great Round is his head.
Description
Lichadonisia is located on the northwest side of Evia, between the Maliakos and the Northern Evoikos bay, on the extension of the ancient Cape Kineo, across from the settlement of Kavo. Opposite Cape Knimida, Fthiotida.
They consist of the Monolia of the Great Round, the Little Strongy, the Steno, the Vaya, the Voria, the Port, and other small deserts and mills known as Ponticons.
The Big Round is the southernmost of the cluster. He took his name from his round shape. It is a verdant island. The islet protrudes abruptly above the surface of the sea and must be the top of an undersea volcano. A lighthouse is installed.
The Monolya islet is elongated and has a small bay that serves as a natural harbor.
Lihadonisia is ideal for underwater fishing and water sports (skiing, surfing).
Administrative History
On 28/12/1836 the administrative division of Evia was published for the first time, and the Lichadonisia belonged to the municipality of Limodion.
In November 1840, the municipality of Limodion was abolished, and the Lichadenoses were deported to the municipality of Edipsos where they remained until 1912.
On 18/12/1920, the Lichadonisia were identified and subjected to the community of Lichachos (there is no mention of their abolition).
On October 16, 1940, the Lichdalen Islands were abolished and recognized as Strongyli and Monolia.
Population
26 during the 1920 census
70 at the census of 1928
37 at the 1940 census
53 at the 1951 census
25 during the 1961 census
2 at the 1971 census
5 during the census of 1981